Digital
Top 15 Social Media Events for 2021
If 2020 has taught us anything, it is the importance of continuously learning additional skills and the value of human connection. Fortunately, there are several social media events planned for 2021 that can fulfill both these needs simultaneously. Many of these cater to beginners as well as more advanced professionals and cover a wide range of topics that include practically everything you need to know about marketing. 
Here are the top social media events that should help you in 2021 to meet the changing needs of brands. 
---
Top 15 Social Media Events for 2021:
---
Scottsdale, Arizona – February 22 – 24, 2021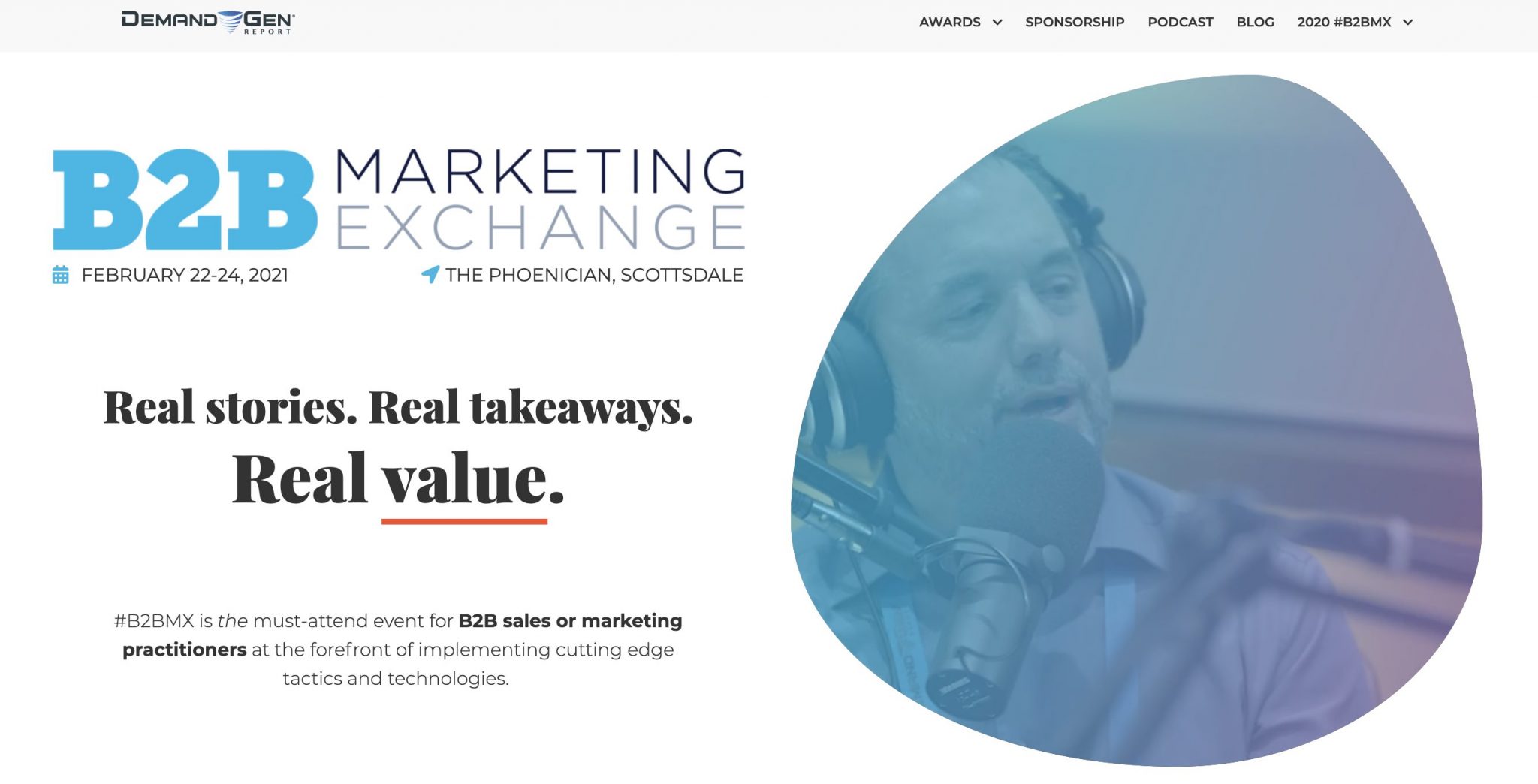 If you work in B2B sales or as a marketing practitioner, the B2B Marketing Exchange (#B2BMX) is an event that you definitely need to diarize. The conference will be held in person at The Phoenician, a luxury hotel resort, in Scottsdale. 
A highlight of the conference is the B2B Labs that offer practical guidance from leaders in the field. These sessions usually focus on topics such as interactive content, account-based marketing (ABM) and intent data.  
There is also a line-up of case studies and panels by some of the foremost executives in the B2B industry. Some of the keynote speakers of previous years included Tamsen Webster (Strategist and TEDx producer) and Todd Henry (author of The Accidental Creative). 
---
Virtual – February 25 – 26, 2021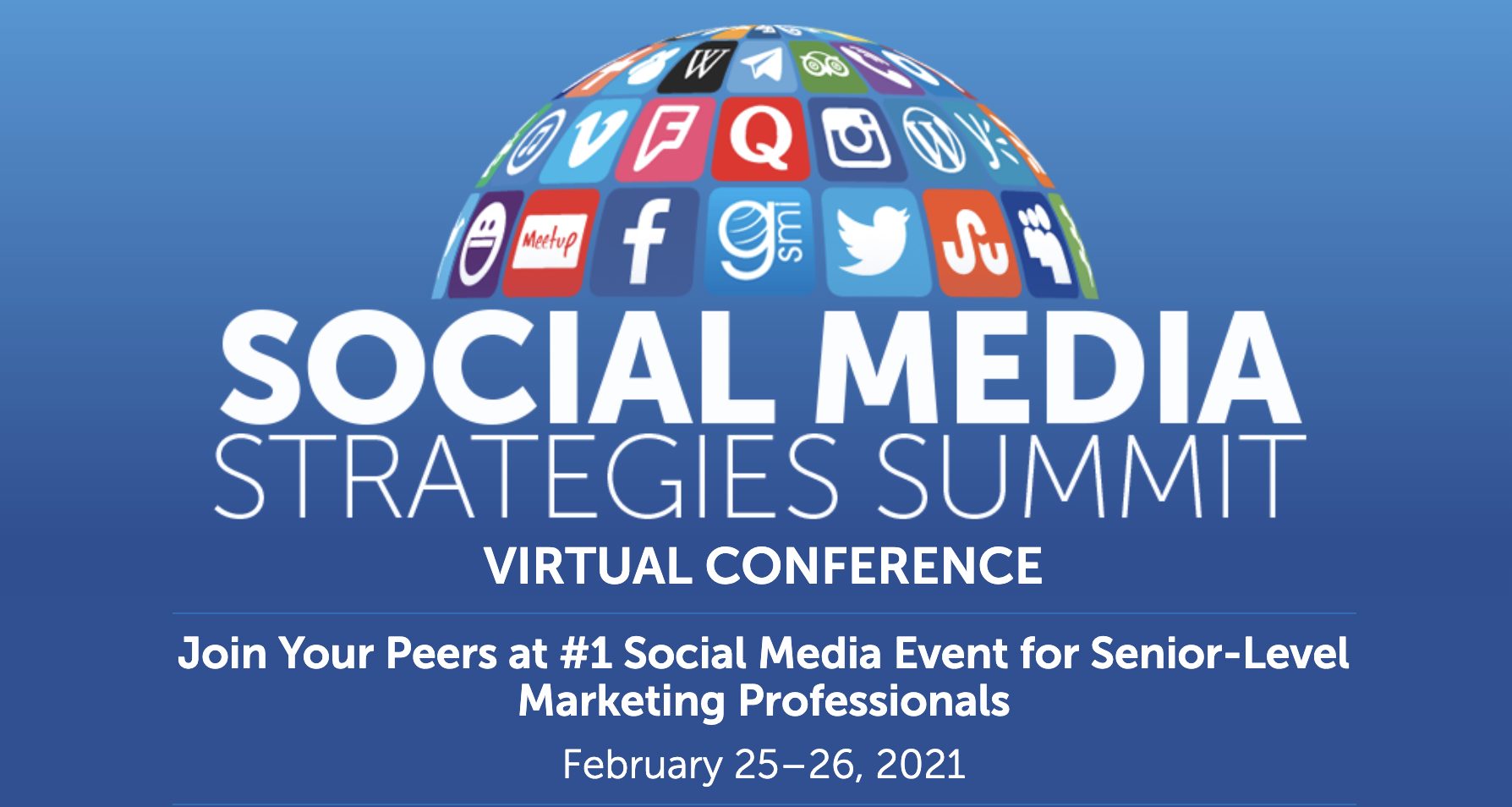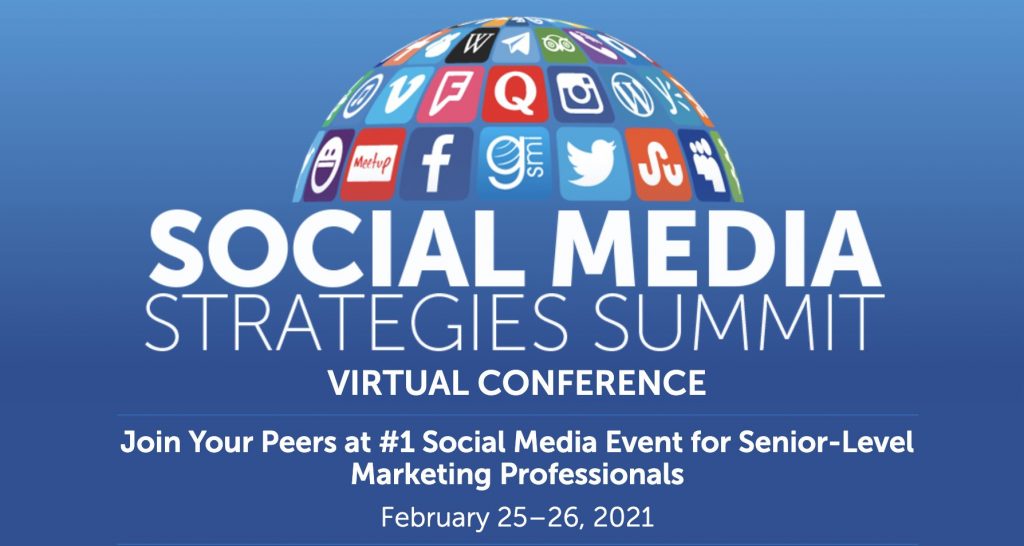 The Social Media Strategies Conference is a two-day virtual conference. While this conference only runs till about noon on both days, it still promises to deliver valuable insights and tips. Some of the speakers include Jon Frederick (Nickelodeon's Director of Social Media), Obele Brown-West Hinsley (Executive VP of Tinuiti) and Tiffany Rivers (Director of Social Media of Boys & Girls Clubs of America).
Tickets cost $699, but by taking advantage of one of the early-bird discounts you could save as much as $300. The price includes access to the two days as well as unlimited access to four extra talks that you can watch whenever you want. 
---
San Diego, California – February 28, March 1 and March 2, 2021


This huge conference aims to empower marketers and influencers by teaching them the best social media marketing strategies that will help them to build their businesses. The majority of attendees own or work for companies that employ fewer than 100 people. 
Speakers at last year's event included Michael Stelzner (the founder of Social Media Examiner), Ann Handley (the Chief Content Officer at MarketingProf), and a handful of leading Facebook, Instagram, LinkedIn and YouTube experts. This year's line-up promises to be equally valuable. 
All-access tickets cost $1697, but there are cheaper ticket options available too. You also have the option only to attend it "virtually" for only $697.  
---
Online – March 24 – 25, 2021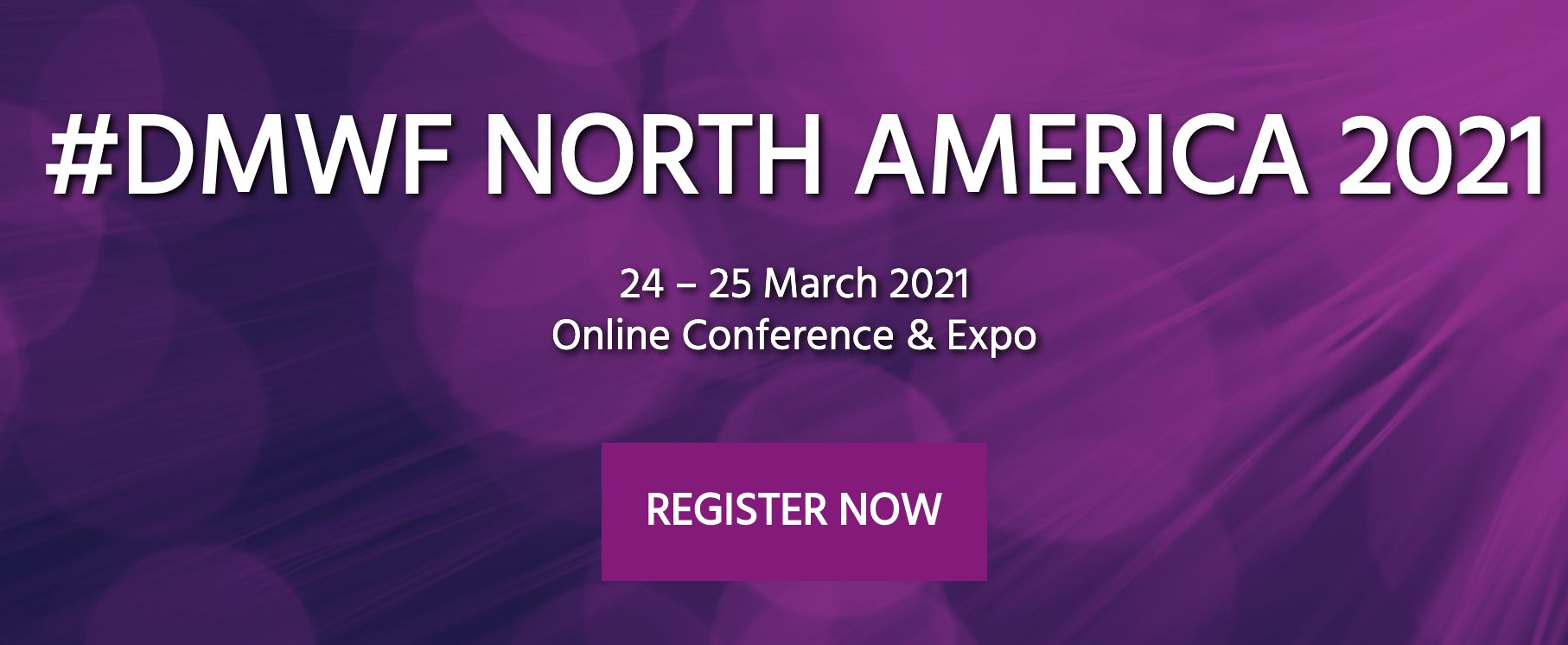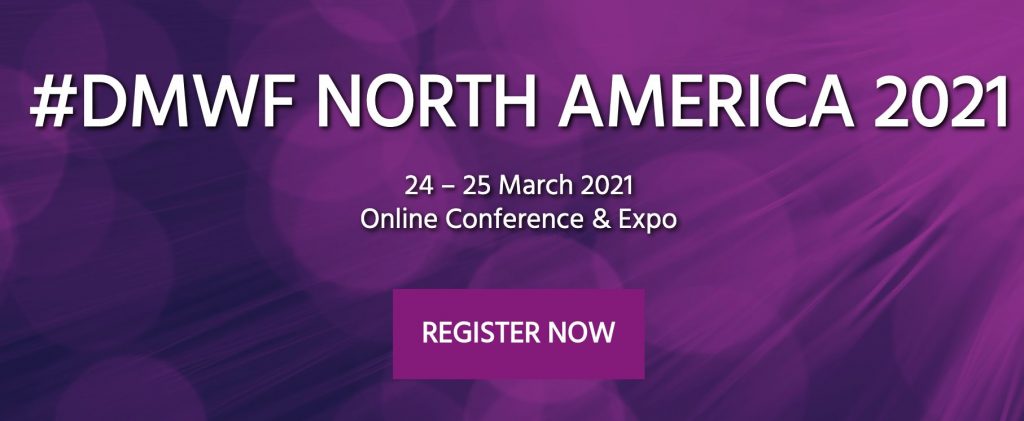 At 2021's #DMWF North America event, attendees can look forward to five conference tracks and more than 40 speakers. The agenda will concentrate on supporting marketers to deal with challenges and help them to plan and carry out new strategies that will impact their future campaigns. The topics that will be covered include influencer marketing, social media marketing, digital brand strategy, disruptive tech, e-commerce and UX to mention only a few. 
While this event is free of charge to attend, it is open to only senior marketing professionals from America and neighboring regions who meet their application criteria. Professionals from other countries can apply to attend other #DMWF events in this series that will be held throughout the year across the globe. 
---
Online – May 3 – 5, 2021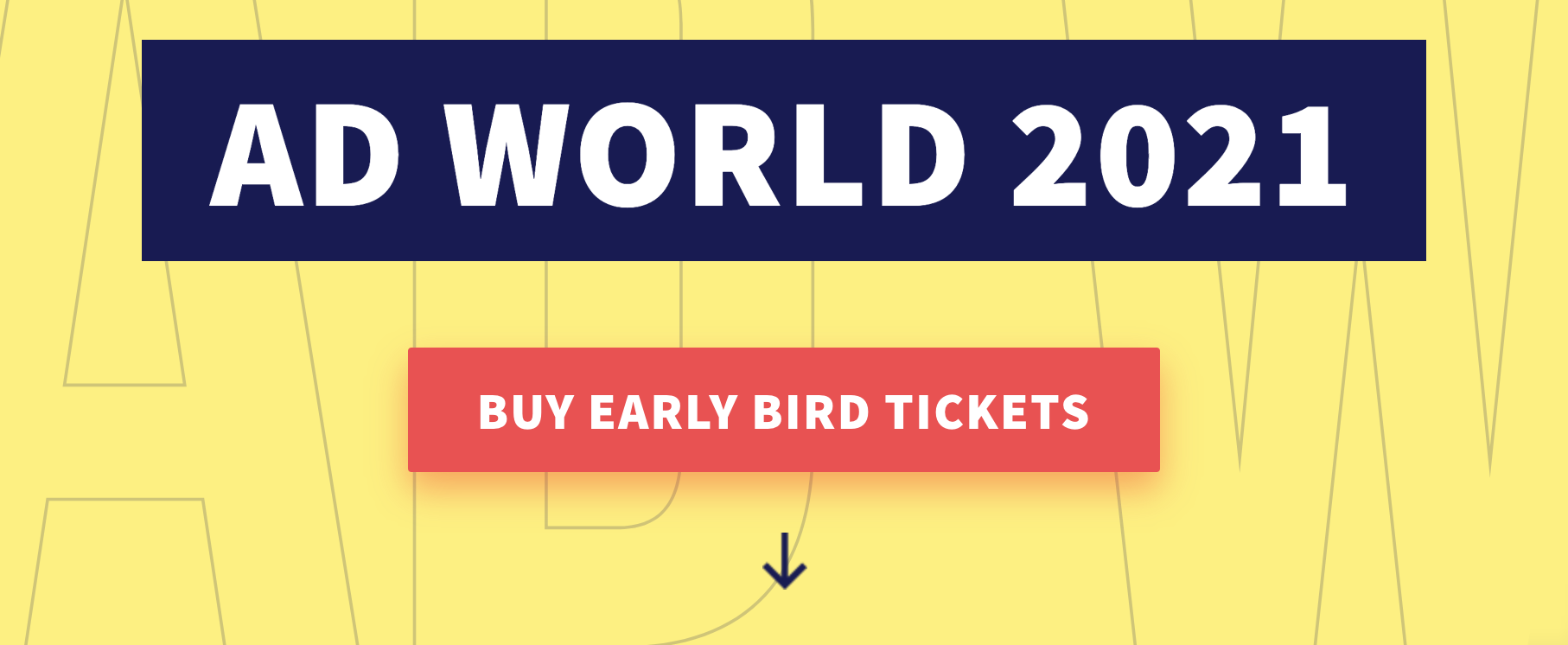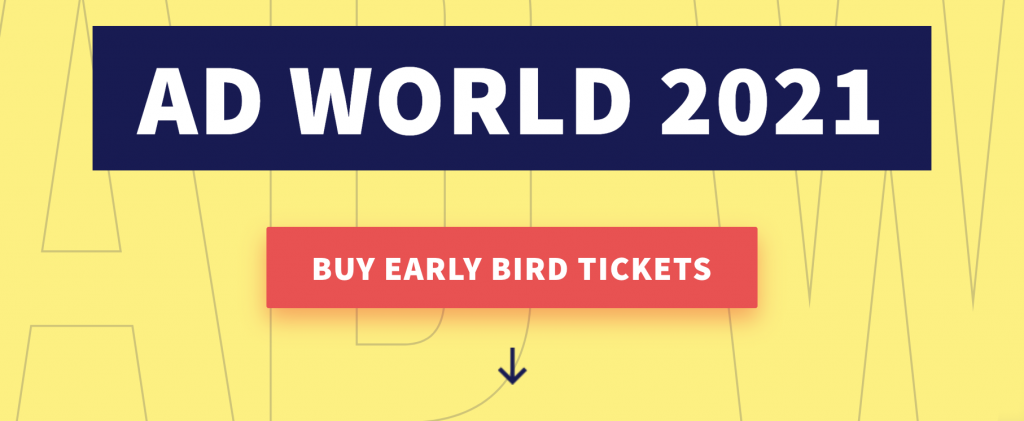 Ad World is the biggest online advertising event in the world. From founders to podcasters, various professionals can learn more about the secrets of online marketing and innovative ideas that are shared during the live Q&A sessions. During the three days, there will also be speeches and workshops to help you improve your business. 
At 2020's event, attendees were presented with actionable insights from speakers like Sir Martin Sorrell (Executive Chairman of S4 Capital Group), Rory Sutherland (Vice Chairman of Ogilvy UK) and Bernise Alviar (Head of Performance Marketing at Canva). Some of the topics that will be covered at 2021's event include media buying, SEO, content marketing, conversion optimization, the future of advertising and affiliate marketing. Tickets are already on sale and generous discounts are offered for early birds. 
---
Halifax – June 2021


Social Media Day Halifax is the premier yearly social media marketing conference of Atlantic Canada. During this one-day conference, attendees can learn new ways to tie their business goals to their social media marketing efforts and find out more about key trends and changes in the industry. 
It's ideal for business owners, entrepreneurs, and professionals who are employed in social media roles. In short, anyone who wants to boost their social media communications and marketing will benefit. Beginners as well as advanced marketers will uncover new ideas and leave feeling inspired. 
---
Frankfurt, Germany – September 2, 2021


Growth Marketing Summit is the largest conference for digital growth and optimization in Europe. It concentrates on a data-driven, customer-oriented and agile approach to help businesses grow sustainably. 
At this year's event, attendees can look forward to about 12 TED-style talks. Speakers include Joost de Schepper (Associate Director at Spotify), Erin Weigl (Principal Designer at Booking.com), and Krista Seiden (Founder and Principal Consultant at KS Digital).
Premium tickets cost €1,959 and include an exclusive meet and greet with Dan Ariely, the keynote speaker of the event. Though, if you skip this meet and greet, you can snap up a ticket for only €799.
---
San Diego, California – September 13 – 15, 2021

Traffic & Conversion Summit was first held in 2009 when thousands of marketers across the globe got together to learn about the newest trends in digital marketing and practices that actually work. It was founded by Ryan Deiss, the CEO and co-founder of DigitalMarketer. 
Past speakers include Arnold Schwarzenegger (yes, the one and only),  Rachel Bell (Founder of Online Coach University), and Jay Abraham (Founder and CEO of The Abraham Group). While the pricing for 2021 has not been revealed yet, tickets for 2020's event ranged from $495 – $2,495.
---
Venue and dates still to be determined


Although The Social Shake-Up Show is one of the top influencer marketing events for 2021, the event actually looks at a wide range of topics. During the sessions, advanced topics relating to social media marketing are discussed which means that even more experienced marketers will find it valuable. 
Companies like Stackla, Adobe Spark, American Marketing Association, and CreatorIQ have attended this event in the past. Previous speakers include Nadia Khamis (Director of Corporate Engagement at Planned Parenthood), Rachel Krupitsky (Director of Social Media Strategy at Penguin Random House), and James Gregson (Head of Social Studio at Lego).
While the pricing for 2021 has not been revealed yet, tickets for 2020's event ranged from $499 – $799.
---
Venue and dates still to be determined


Since 2012, Social Media Day San Diego has been one of the top social media day events for marketers. One of the appeals of this event is that you do not have to set aside three full days. While it is only a one-day event, attendees are treated to a list of experienced speakers. Previous speakers include Scott Ayers (AgoraPulse), Tiffany Rivers (who is also set to speak at the Social Media Strategies Conference), and Bruce Irving (Smart Pizza Marketing). 
---
Various locations and dates


DigiMarCon is the biggest digital marketing, media and advertising conference and exhibition series across the globe. More than 33 conferences are held every year in 13 countries. 
These conferences help attendees to improve their marketing efforts and cover a long list of feature topics that include email marketing, social media marketing, SEO, content marketing, growth hacking, customer engagement and loads more. Some of the industry leaders who have spoken recently at their events include Christi Olson (Microsoft), David Fallarme (HubSpot), Megan Toth (NBC Universal) and Andy Crestodina (Orbit Media Studio).  
---
Various locations and dates 


Social Media Week is a must-attend global event that looks at all things relating to the Internet. During this event, digital marketing professionals from across the globe come together to share insights and strategies for how to improve your business. It is the premier event for leaders in digital marketing and is attended by about 75,000 people.
Previous speakers include James Lamon (Head of Content at BuzzFeed UK), Paulina Mustafa (Product Designer at Google), and Mobbie Nazir (Chief Strategy Officer at We Are Social). In 2021, Social Media Week will have three flagship events in New York (May 4 – 7), Los Angeles (June 29 – July 1) and London (October 26 – 28). Some of its other global events planned for 2021 include events in South Africa, Santo Domingo and Mexico City.
---
Various locations and dates 


Digital Summit is a series of events that focus on social media and digital marketing. Speakers differ from one location to the next, but in the past they had speakers from popular start-ups as well as Fortune 500 companies. 
The schedule for 2021 includes virtual, in-person and hybrid events. Some of the topics that will be covered are creativity, B2B marketing, social media, email marketing and website strategy. So far, the in-person events look as if they will kick off in June, while the first three-day virtual event is scheduled for February 24 – 26. 
---
Venue and dates still to be determined

While most of these social media events focus on a wide range of topics relating to digital marketing mostly, DC Podfest targets more of a niche market. During this multi-day event, podcasters from all across the globe get together to learn and network. Some of the topics that were covered in the past include microphone technique, best podcast practices, marketing, and monetization. 
There are hands-on workshops, speakers, and live podcast shows in action. Attendees will also have the opportunity to connect with fellow influencers and podcasters at social events. While 2020's event was sadly cancelled due to the global pandemic, they are set to return in 2021 with either a virtual or an in-person event. 
---
Los Angeles – March 22, 2021


Listen In is another niche social media event aimed at podcast industry specialists. Though, decision makers from corporate marketing teams and start-ups will also find the highly customizable and actionable insights useful. 
The headliner for 2021's conference will be Sarah Koenig. She is the host and co-creator of Serial, an award-winning podcast that has been downloaded over 420 million times. The conference also has a line-up of speakers from businesses that have launched a successful branded podcast or used the medium as an advertising opportunity. 
View more information: https://influencermarketinghub.com/social-media-events/
See more articles in category:
Digital