Best
28 Reasons Mellow Mushroom Best Pizza Ever!, Plainsmans Choice 2021
I've worked at the same Mellow Mushroom for a year and three months and basically, I'm not getting any younger. Working 20-25 hours a week and a double shift every weekend, I spend TOO much time there. It's kind of sad, and you could say "get your bag", but does that really apply if you hardly make above minimum wage? Anyways, I've eaten so much pizza in the past year from Ye Ole Shroom that I think I'm more than qualified to provide you all with my rankings of the best and worst things to order.
Đang xem: Mellow mushroom best pizza
Each ranking will be organized into each of their respective categories. To keep the article orderly, I'll be starting from the top of the menu to the bottom, starting with the "munchies".
**Disclaimer: These pictures are not mine! I wish I could've taken my own but that's so unrealistic and I don't want to get bullied at work.
MUNCHIES
9. Magic Mushroom Soup
It sounds good until you see it. It's kind of brown/gray looking, and it definitely tastes how it looks.
8. Meatball Trio
I don't eat meat and if I did, meatballs would never be my first choice.
7. Oven Roasted Wings
Talon member Olivia Niesse says they're bangin', so here they lie at #7. There's a bunch of different sauce choices which makes it a little more exciting than the meatballs.
6. Bruschetta
Boring, not even that good. Why would you spend money on this.
5. Hummus
Boring, but still enjoyable.
4. Spinach Dip
Super good, just super cheesy. Almost too cheesy, but I guess that's the point?
3. Pretzel Bites
Really gas, a cult classic.
2. Salt or Parm Pretzels
If you choose salt over parm, I will judge you. Unless you're vegan or something. These are just like the pretzel bites, but big.
Cheese Bread (+pesto or +pepperoni)
Personally, I'd add pesto, but the cheese bread is hands down the best item in this section.
The munchie category is by far my favorite, but now we shall explore the world of Mellow Mushroom salads.
GREENS
5. Chef
This salad has meat in it!!! Two types, in fact!!! I've never had it and I don't plan on it any time soon.
4. Caesar
It's a pretty basic caesar, but I've never had ours (did you know I'm a vegetarian??? I bet you didn't)
3. Greek
Take off the kalamata and we've got a bomb salad.
2. House
This salad is a basic one, but it rocks every time.
Enlightened
By far the best salad sold, I'm certain you'll like it if you like salads. It's spinach, diced apples, candied pecans, and feta! How could you go wrong?
Salads are pretty boring, and of course you can build your own, but I don't have anything interesting to say about them. I actually just learned we're getting new salads last night, but it looks gross so I won't even bother talking about itPIES
These first 5 are all meat pies, so I will be ranking them based on physical appearance and aesthetic appeal.
9. Mighty Meaty
I definitely have a bone to pick with this pizza, and it's not because I'm a vegetarian. After every single shift, both my car and my person smell like this pizza. It's disgusting and I hate it.
8. House
If you order a small house pie, I'm scared of you. There's no way you're gonna eat that whole entire thing and not yak. The pizza itself is pretty until you cut it! It's just a fat pie. I guess that's the point though.
7. Pacific Rim
Jalapenos! Ham! Pineapple! Bacon! Caramelized onions!
That's what on the Pacific Rim, if you were wondering. My boss told me I couldn't get a "promotion" until I memorized the entire menu. The other day he quizzed me and I said banana peppers instead of jalapenos…and that's why this Pizza is my number 7 and not my number 6!
So shout-out to you, Josh. You're featured in the talon!!!
6. Funky Q.
A boring pizza with a dumb name! It's kind of ugly, but I think it's because the barbecue is thin and it slides all over the place.
5. Buffalo Chicken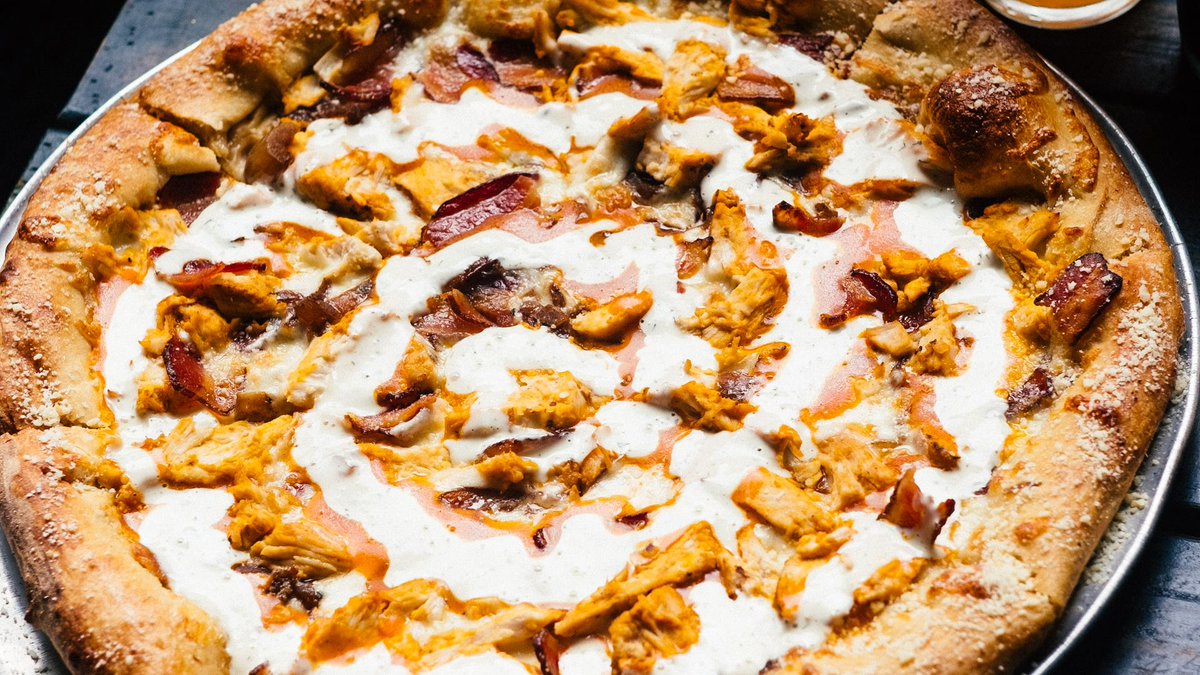 It's really pretty to look at, but if you choose a bleu cheese swirl instead of ranch (or no swirl at all), I'm scared of you.
4. Holy Shiitake
I really like this pizza, but it's so rich that I can barely finish one slice. It's literally mushrooms, cheese, oil, garlic, and the occasional onion. Basically, I refuse to spend 13 bucks on a small pizza when I know I won't finish it. I mean, I work there, so I wouldn't pay 13 dollars for it anyways, but my point still stands.
3. Veg Out
An oldie but a goodie! It's a basic veggie pie with every vegetable you can think of. I always feel healthy when I eat a slice, even though I know I treat my body like a dumpster.
Xem thêm: cataloguing versus indexing
2. Kosmic Karma
Very delectable, especially if you're a pesto person. This one's a close second for the first place title.
Great White
Awesome, showstopping every time. If this pizza ever gets removed from the menu, I think I'll shed a tear or two. It's a white pizza with caramelized onions and tomatoes.
Again, there's new stuff being added to the menu, but I actually have a lot to say about the new specialty pies, so I'll talk about them.
Backyard BBQ- This one sounds decent. It's got shredded barbecue and peppers, pretty basic stuff.
Wild in Havana- This pie looks and sounds gross. I will definitely judge you if you order and enjoy this pizza. It doesn't have a base, which is already a red flag. It's got a ton of meat on it, which is fine, you do you. The downfall of this pie is the diced pickles and our new "Mayo-Mustard" sauce…which is literally just two cups of yellow mustard and a cup of mayo…
To make it worse, the "sauce" is slapped all across the pie. Nasty.
It may seem like I'm a Mellow Pizza hater, but I swear I'm not. I'll give a huge shout-out to the vegan dough and "cheese", that stuff rocks my world.
CALZONES
**we also have a steak and a chicken,,, but they're the same, sub chicken for steak and vice versa.
3. Sausage-fest
It's exactly what it sounds like. It's probably good, I wouldn't know, and that's why it's my #3
2. Cheese
This is really good, just too cheesy for me. If you love cheese, this calzone has like 3 different cheeses in it.
1. Veggie
GAS!!! Mushrooms, spinach, tomatoes, and cheese: a dream of mine.
HOAGIES
The only two hoagies I've tried are the tofu and the avocado, so I'll rank those, but the rest have meat. Now I'm thinking I wasn't the best person to rank our menu, but all is well. All the hoagies kind of look the same anyways.
2. Avocado
It's alright, but not as good as the tofu.
Tofu/Tempeh
Super basic, not something I'd go out of my way to order. You're better off getting a pizza.
Okay, I'm heated. The tofu hoagie was removed from the menu and replaced with a Cuban. The updates while I'm writing this ranking are very disappointing to say the least, but I'm not a huge fan of our hoagies anyways so I guess it doesn't matter!
SWEETS
**I'm not adding photos because I think it's pretty self explanatory. And I'm lazy.
6. Oatmeal Raisin
Nasty. Oatmeal cookies are gross as it is, but ours are hard and crusty. Some of my coworkers would die for our oatmeal raisin, but I'm scared of them. Was happy to hear we're getting rid of them!
5. Mellow Pops
These are fine. It's a frozen popsicle, nothing special. I do have a funny story to tell about them because my opinions are lackluster.
Every single Tuesday and Thursday we have an odd brother and sister duo that come in to play Bingo or Trivia. They always sit at table 52, but if 52's taken they move themselves right next to Josh, the announcer, at table 53. They've been coming in since I've worked there, cheating on trivia every week without fail. David, the brother, always demands for the Banana Pudding Mellow Pop and throws a little fit when he learns we're out, even though we've been out for the past 4 months…We always tell him we're not getting another shipment until the spring because they're seasonal, but he doesn't care. He needs his banana pudding pop NOW! But nonetheless, Becky and David have a special place in my heart.
4. Reese's Peanut Butter Chocolate Cookie
A pretty solid option! Very tasty!
3. Mary Jane's Triple Chocolate Brownie
Your basic brownie with a silly little name that may be a little too suggestive considering we're a "family" restaurant.
2. Chocolate Chip Cookie
My favorite of all the cookies! When I ever borrow a cookie, it's this one. But if you're my boss and you're reading this, no you're not.
Gluten Free Chocolate Brownie
Really good, better than you'd expect, and that's what makes it rock. It's packaged and not even made by us, you can literally go find these brownies at Whole Foods, but that doesn't undermine how good these brownies are. Don't worry folks, you can't even taste the lack of gluten!
One morning shift, a kitchen boy named Briggs used the dough, cinnamon, and sugar from the bar to make cinnamon rolls for us. I didn't try them, but the thought was still there. They smelled amazing. What a sweetheart!
UPDATE: WE'RE GETTING SUGAR COOKIES!!!!!!!!!!!!!!!!!!!!!!!!!!!!!!!!!!!!!
LOCAL TO YOUR MELLOW
This category represents our location specific menu items!
6. Philosopher's Pie
This sounds decent to me, I've never had it given the meat, but it's got kalamata on it so here it lies at number 6.
5. Caprese Appetizer
I think Caprese are boring and I wouldn't pay for one ever, especially not one from Mellow Mushroom (sorry salad line). I'd rather just make my own…
4. Maui Wowie
It's pretty much a Hawaiian with jerk chicken, banana peppers (my favorite of the peppers), bacon, and a pesto base. If I were to eat this, it would only have pineapple, pesto, and banana peppers. Not the worst combo, but the only thing keeping this pie so high on the list are the banana peppers. Also, the name rhymes and that's cute.
3. Loaded Potato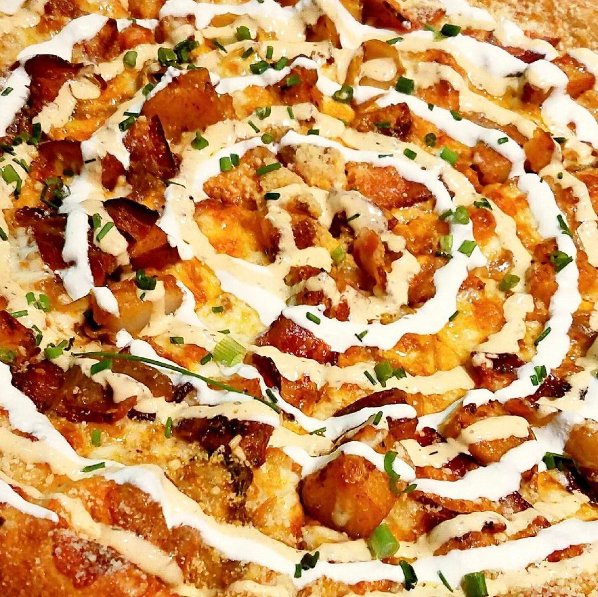 Yeah okay, this pizza is super good. It's bacon, potatoes, caramelized onions, two different cheeses, sour cream, and a spicy ranch swirl. The only time I've had this pizza was when the kitchen "messed up" the pie, so I got to pick off the bacon and munch in the prep area.
2. Thai Dye Pie
The Thai chili sauce on this rocks. I have a special place in my heart for our oil and garlic base pies. Every time I've seen this pizza, it's gorgeous and it smells delectable. I'll admit…the curry chicken smells amazing and I've thought about trying it before…but I won'tMagical Mystery Tour
Here we are at number 1, with the pizza above all others. It's named after the Beatles, which is pretty cool on it's own. It's got a pesto base, portobello mushrooms, cheese, spinach, and jalapenos. Basically, the perfect pizza.
Xem thêm: The 7 Best Convenience Store Cigars Of 2021 (Reviews And Rankings)
Conclusion
Overall, my opinions are slightly invalidated for around 50% of the menu because of the whole meat situation. I may have trashed the majority of the menu, but that doesn't mean I don't eat some form of Mellow Mushroom before, during, and/or after every shift.